Hostgator provides a best web hosting service with UNLIMITED Disk Space and Bandwidth,24/7/365 Award Winning Technical Support. HostGator is one of the world's top 10 largest web hosting companies with more than 5,000,000 hosted domains. They have over 750 employees to provide you superior around the clock support. HostGator is a perfect choice whether you are looking for business or personal, web hosting.
Some great features of Hostgator Webhosting.
* UNLIMITED Domains
* UNLIMITED Disk Space
* UNLIMITED Bandwidth
* FREE Private SSL & IP
* FREE Toll Free Number
* UNLIMITED MySQL Databases
* UNLIMITED POP3 Accounts
* Latest cPanel
* More Features...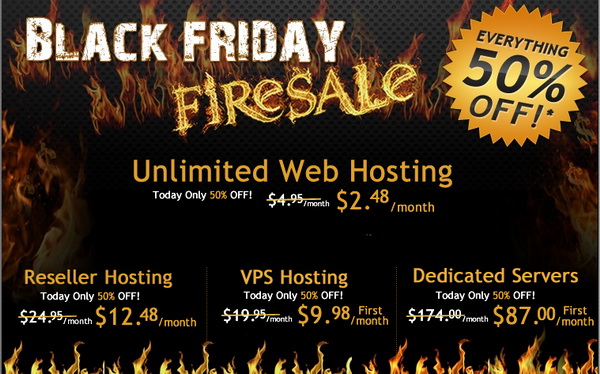 For a very limited time, HostGator offers  50% OFF on ALL hosting services . This includes Shared hosting, Reseller hosting, VPS hosting, Dedicated servers and Windows hosting!. This does not include domain names.
You do NOT need to insert a coupon code to receive the special. The correct coupon code will automatically be inserted on all orders placed on Black Friday.
This promotion will bring HostGator's already competitive hosting packages as low as:
Shared hosting: As low as $4.95 Now only: $2.48/month (pre-paid)
Reseller Hosting: As low as $24.95 Now Only: $12.48/month (pre-paid)
VPS Hosting: As low as $19.95 Now Only: $9.98/month (First Month)
Dedicated Servers: As low as $174 Now Only $87/month (First Month)
This is an incredible deal and it will only run for 1 DAY! The promotion will begin just after midnight, Friday, November 25th, 2011 Central Standard Time (-6 GMT). The special offer will run until 11:59PM CST Friday, November 25th, 2011.
File Under : internet, web hosting