Now a days blogging is a fashion. Every people are willing to start a blog and earn some extra income. We know 10 years ago blogging is new experience to world. Actually, lot of people did not use internet those days. But, now year 2014. Everything changed! People not satisfy only searching internet, they want to start their own website or blog. When I start my blogging  carrier eight years ago, I remembered, blogging is not very easy those days. But, now new bloggers are very lucky. They have everything to start a blog.
Before start a blog we need to think about main three things. WEB PLATFORM, WEB HOSTING & DOMAIN NAME , WEB TEMPLATE
#1: Choose Correct Web Platform
I recommended WordPress to beginners,  WordPress is the best platform to start their blog. WordPress is the most popular web sites management system and easiest way to build a blog. Majority top bloggers used WordPress to run their blog. I am using  WordPress since five years ago, I know it is help more to me success.

#2: Choose Best Web Hosting Service
Next important thing is a finding  best web hosting company. This is very important factor for every bloggers. Lot of web hosting companies out there and very difficult to find better company to newbie. Every companies says very attractive word such as Unlimited Space, Unlimited Bandwidth but you need careful with some web hosting companies. Unless, you will lost your money.
In here, I recommended Bluehost is the best web hosting company to choose both beginners and top bloggers. Bluehost is the web hosting company that officially recommended by WordPress. Also, They have over two million customers all over the world.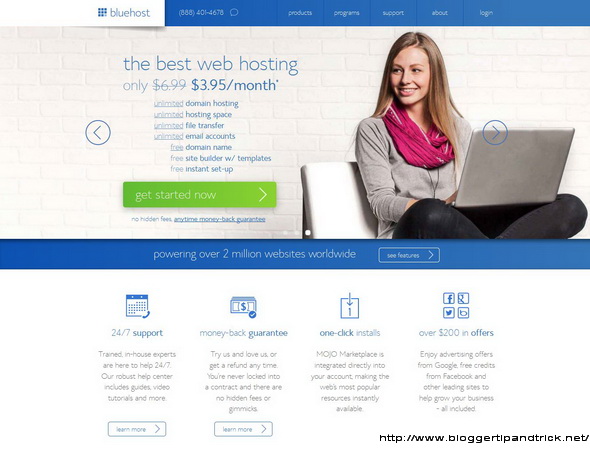 I recommended Bluehost because they provide very important facilities and guarantee.
Unlimited Bandwidth and Disk Space ( Important )
Unlimited Domain Hosting
Unlimited Email Accounts
Free Web Site Builder
Free Domain For One Year ( No need to pay domain for first year  )
99.99% Guaranteed Up Time  ( Important )
Any Time Money Back Guarantee
24/7  Excellent Support ( Important )
1-Click WordPress Installer
#3: Select Suitable WordPress Theme
Theme of  your blog is very important. Very nice and fast loading WordPress theme attract your visitors. It is help to increase your audience and SEO. Also, It is very important part in your blog income. Lot of  theme companies out there and they developed various WordPress templates. But, I recommended Themeforest for you because they are the largest theme store in internet. They have very good collection in various topics.

<<<Download WordPress Templates Here>>>
File Under : wordpress