WordPress is a superb platform to build a personal blog or online magazine website. As you know, many beautiful and powerful blogging and magazine websites are using WordPress as their platform. But finding a feature-rich, user friendly WordPress theme for your Blog or Magazine site can be tough. In this post, I have listed best awesome WordPress themes avialable today for Blogging and Magazine sites. We hope you will find a perfect theme from the list to build an awesome magazine website.
Newspaper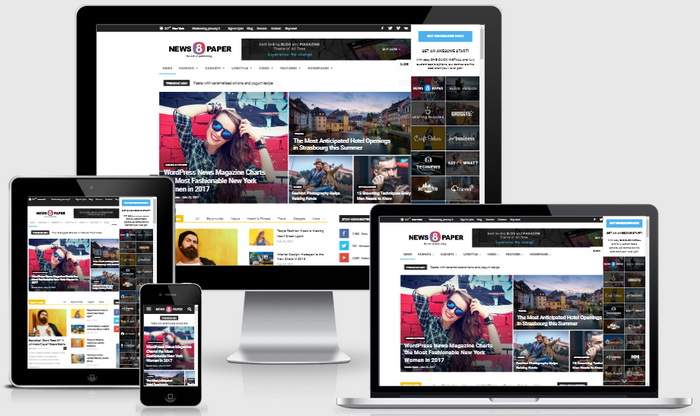 Newspaper is a WordPress theme that lets you write articles and blog posts with ease. The Newspaper template is excellent for a news, newspaper, magazine, publishing or review site. It also supports videos from YouTube and features a rating system. So far, we have the theme integrated with bbPress Forum, BuddyPress, Buddy Press, and WooCommerce. It uses the best clean SEO practices, and on top of that, it's fast, simple, and easy to use.
Newspaper View DemoNewspaper Download & Info
Sahifa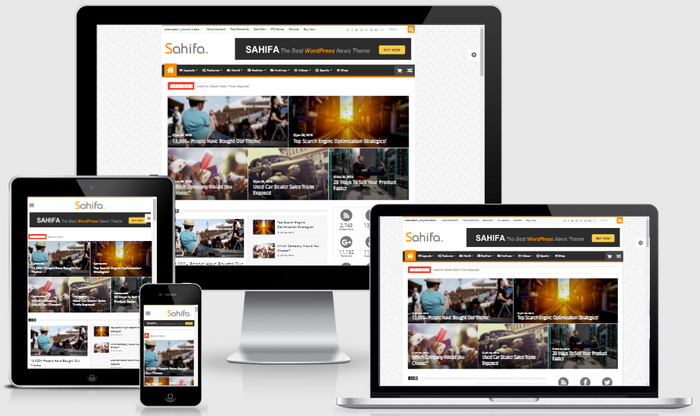 Sahifa is one of the most versatile website themes among WordPress users. It is a clean and modern, user friendly, fast-loading, customizable, flexible, feature-rich, fully responsive and retina ready, translation ready WordPress theme for News, Magazine, Newspaper and blog websites. Sahifa can work with any operating system or browser. Clients are given complete freedom, and they can even turn off the responsive elements of their page.
Sahifa View DemoSahifa Download & Info
Newsmag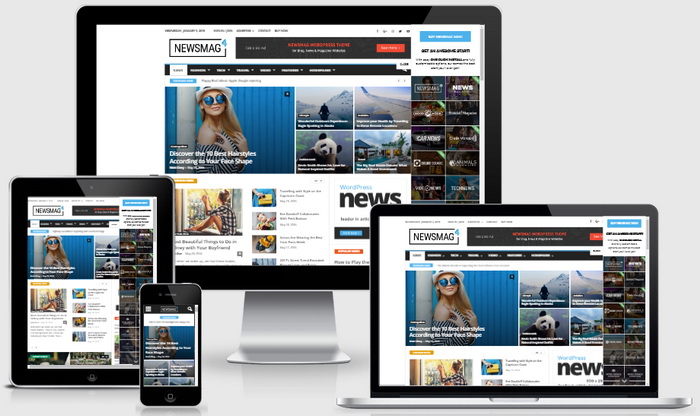 The Newsmag template is excellent for a news, newspaper, magazine, publishing or review site. It also supports videos from YouTube and features a rating system. It uses the best clean SEO practices, and on top of that, it's fast, simple, and easy to use. In addition, News mag supports responsive Google Ads and AdSense.
Newsmag View DemoNewsmag Download & Info
SmartMag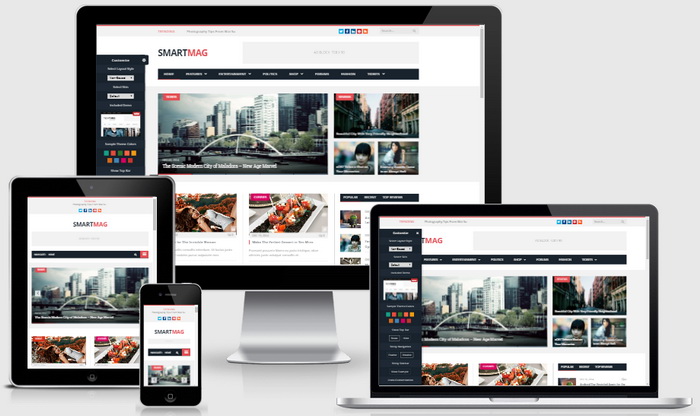 SmartMag not only excels at front-end usability, the admin back-end is very easy to use. The drag & drop page builder makes it easy to create unique and creative homepages. Having built-in support for SEO using rich snippets and HTML5, your site will rank better in search engines. Make your content more appealing, engaging and usable. Get SmartMag today and be setup in minutes!
SmartMag View DemoSmartMag Download & Info
Valenti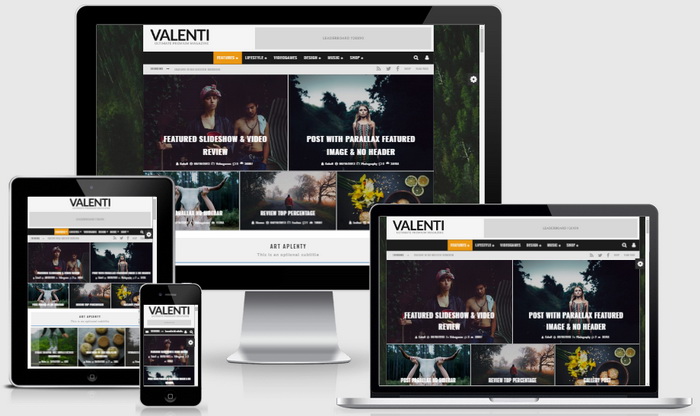 Valenti is a cutting-edge, feature-rich WordPress premium HD (retina-ready) review magazine theme that is fully-responsive. Using the exclusive Valenti Drag & Drop Builder users can have fun creating a unique homepage and easily make modifications to it any time they wish. With Valenti's powerful and integrated reviews system and widget, you can use Valenti fully as a review theme too. Valenti also comes with a unique megamenu system for beautiful drop down menus and also the ability to set the featured image of a post to have a parallax effect.
Valenti View DemoValenti Download & Info
Gonzo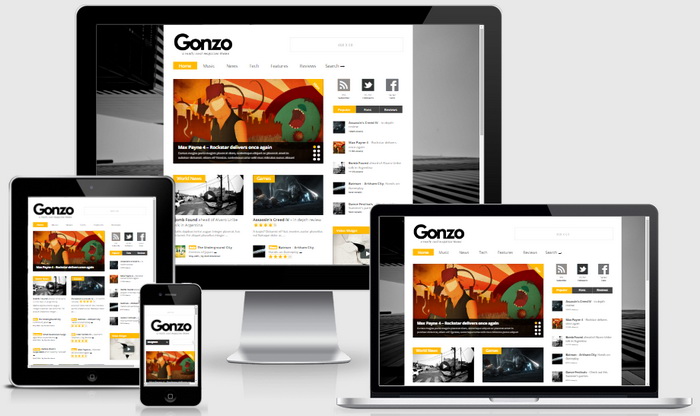 Gonzo is built with semantic HTML5/CSS3 and is completely responsive/retina-ready. Not only is it responsive but it also keeps that magazine feel right down to mobile screen sizes. Practically every typographic element has been endlessly tweaked for different screen sizes to make sure it looks great no matter what the device.
Gonzo View DemoGonzo Download & Info
Jarida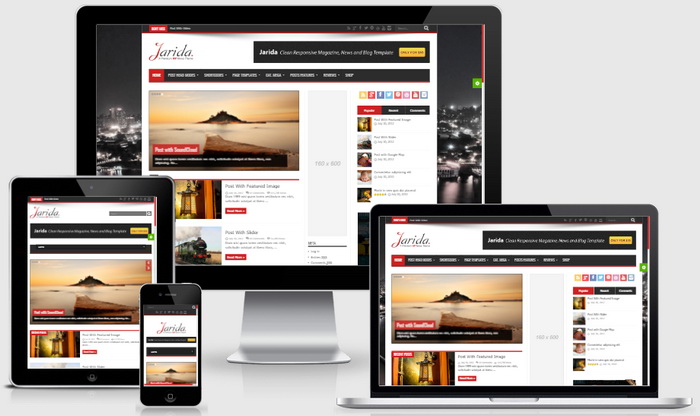 Jarida is a Clean Responsive Magazine, News and Blog Template with features such as RTL Support, WooCommerce Ready, Drag Drop HomePage Builder, Unbranded Powerful Administration Panel, Buddypress Ready, WPML Ready, bbPress Ready, Mega menu, Built-in Review System and more.
Jarida View DemoJarida Download & Info
Goodnews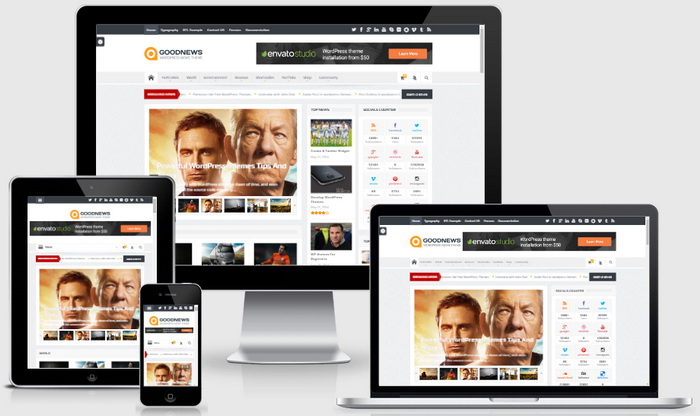 Goodnews is an another powerful WordPress theme with features like Fully Responsive design, Page Builder, Retina ready, One Click Demo import, Review system, Advertising System, Buddypress and bbPress compatible, Mega Menus, Fully RTL Support, Multiple layouts, Unlimited Sidebars, custom Widgets, Unlimited colors and more.
Goodnews View DemoGoodnews Download & Info
Publisher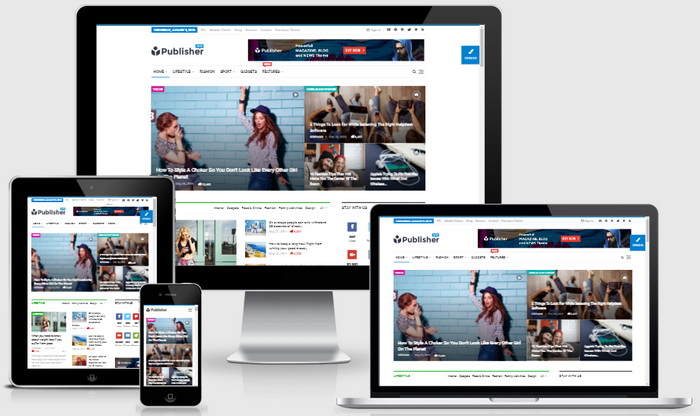 Publisher is the useful and powerful WordPress Newspaper , Magazine and Blog theme with great attention to details, incredible features, an intuitive user interface and everything else you need to create outstanding websites.
Publisher View DemoPublisher Download & Info
Voice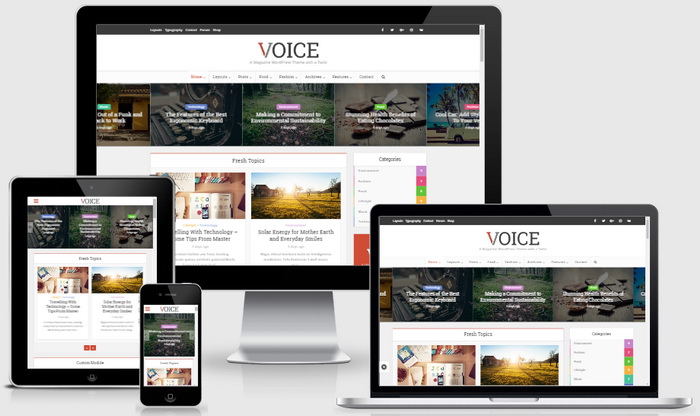 Voice is a responsive WordPress magazine/blog theme created with news/magazine/editorial websites in mind. It comes packed with features including WooCommerce integration for your eCommerce requirements, and bbPress to build a powerful community or social network website.
Voice View DemoVoice Download & Info
True Mag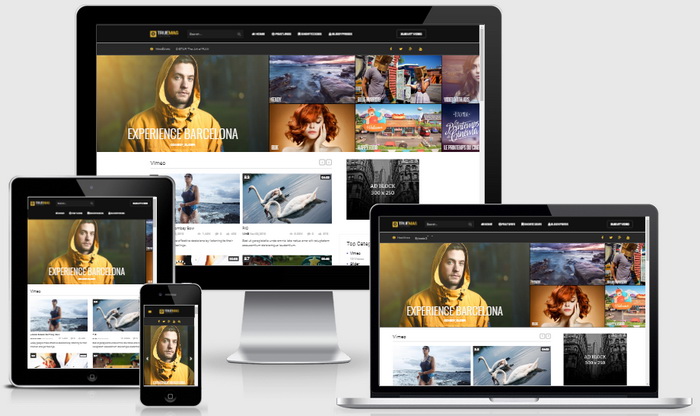 True Mag is a modern and clean WordPress theme for video blog, video portfolio and magazine. We build this responsive video theme with the best practices of UI and UX as well as SEO.
True Mag View DemoTrue Mag Download & Info
Max Mag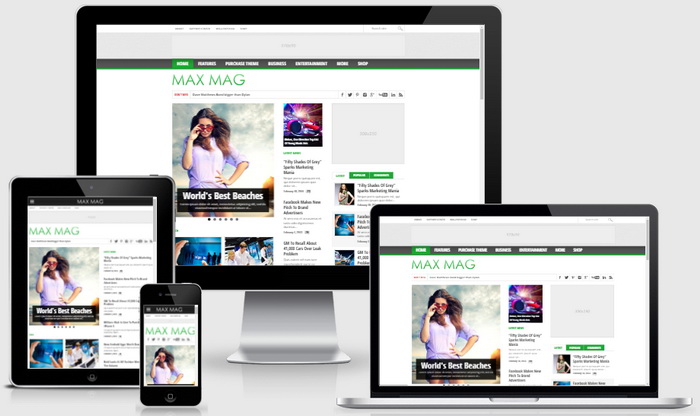 Max Mag is fully-responsive, feature-rich, retina-ready and Compatible with WooCommerce and bbPress. It also includes a sticky menu bar, a slider on each category page, 5 different ad units, a drag-and-drop homepage, 16 custom widgets, secondary feature headlines, SEO friendly and so much more.
Max Mag View DemoMax Mag Download & Info
Braxton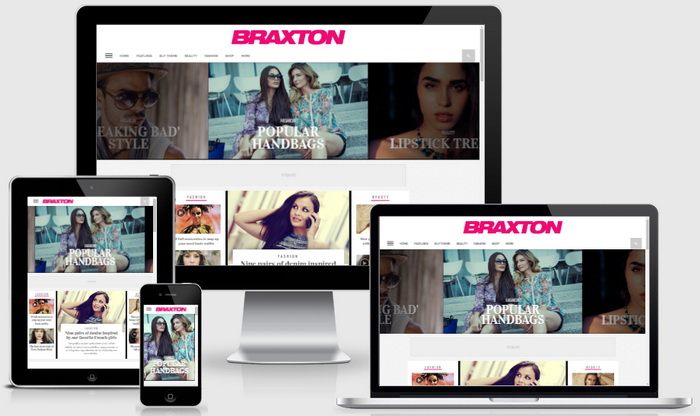 Braxton is the premier magazine theme that combines both form and function into one comprehensive WordPress theme. This sleek, modern theme is retina-ready, fully-responsive and comes with four different ad units, including a custom wallpaper ad and there are many features.
Braxton View DemoBraxton Download & Info
Flex Mag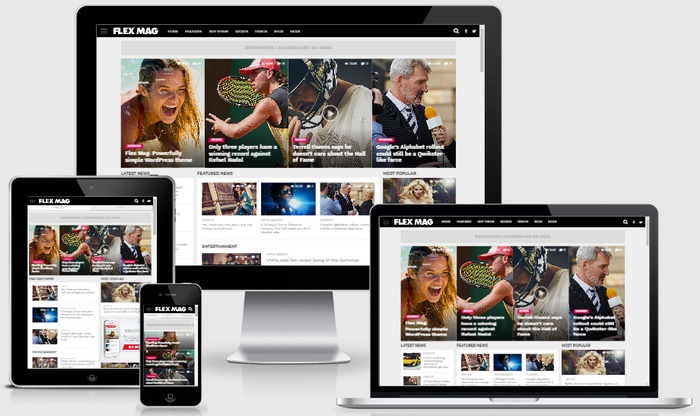 Flex Mag is the perfect combination of power and simplicity in a WordPress News and Magazine theme. Flex Mag comes with a custom Fly-Out Navigation, custom scoreboard, auto-load posts, 4 different pre-set skins, 9 different Featured Posts options, 8 different article templates, 800+ Google Fonts, and so much more.
Flex Mag View DemoFlex Mag Download & Info
CheerUp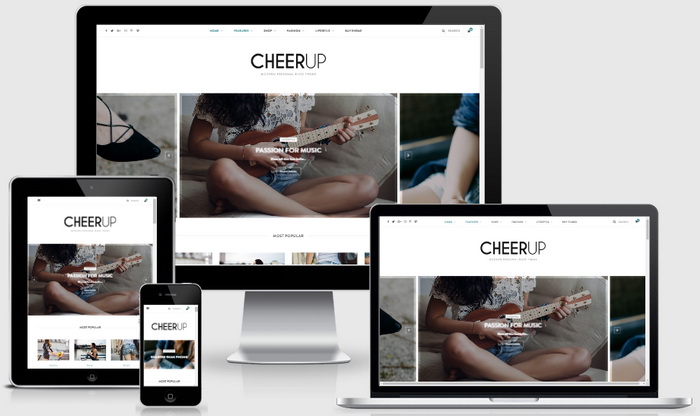 CheerUp is a theme with luxury design options, tailored to be exceptional on all kinds of blogs and minimal magazines. Not only the built-in modern design choices are aesthetically pleasing, it's packed with over 300 possible layout combinations suitable for blogs and elegant magazines.
CheerUp View DemoCheerUp Download & Info
Hot Topix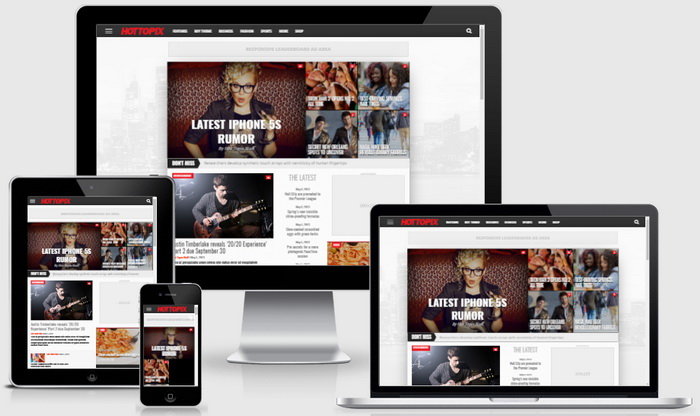 Hot Topix is a complete makeover for your WordPress magazine site. This ultra-modern, professional theme is compatible with WooCommerce and bbPress, is retina-ready, fully-responsive and comes with five different ad units, including a wallpaper ad. It comes with a drag-and-drop homepage, featured posts on each category page, a sticky menu bar, post/page slideshows and so much more.
Hot Topix View DemoHot Topix Download & Info
Hickory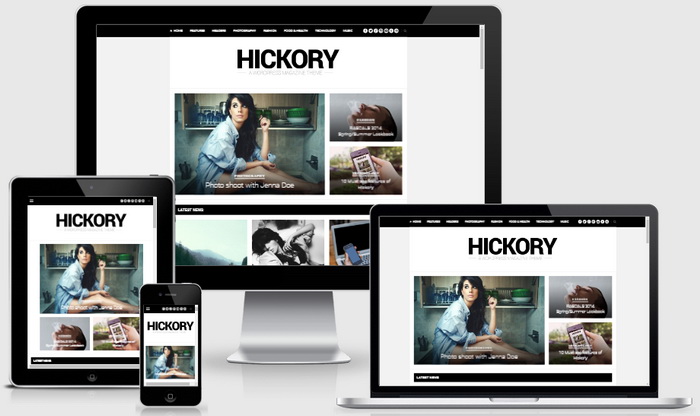 Hickory is an incredibly customizable magazine and blog theme designed to meet your every need. Hickory's clean and highly adaptable form was specifically crafted to appeal to every niche and comes chock-full of premium features. Whatever your magazine or blog needs, Hickory is here to deliver it.
Hickory View DemoHickory Download & Info
Multinews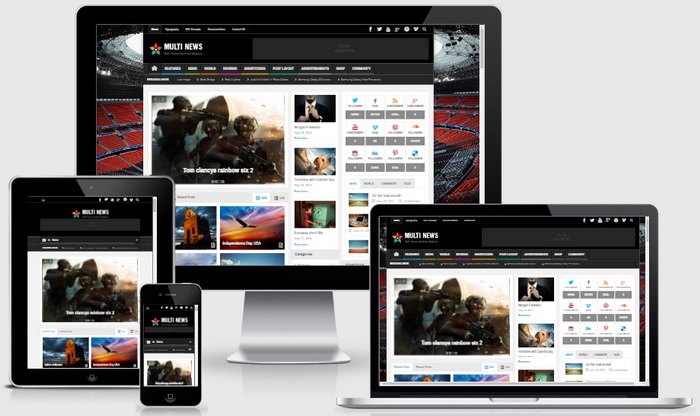 Multinews is a News/Magazine premium wordpress theme with very beautiful design. You can use Multinews for Magazine, newspaper and blog. It has many unique features such as Flipping magazine, Beautiful mega menus, a lot of Layouts options, Ajax Live search, Author Timeline and more.
Multinews View DemoMultinews Download & Info
ExtraNews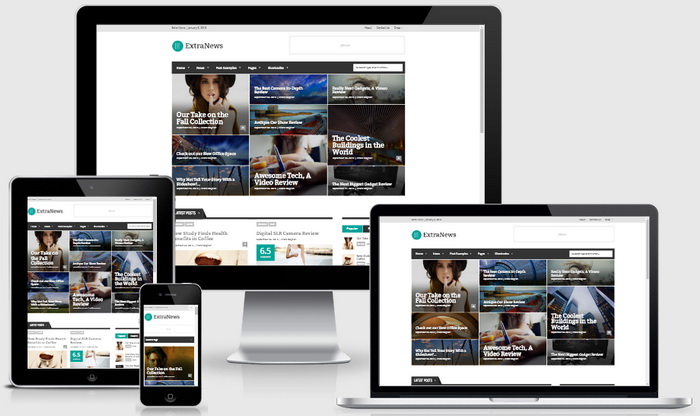 ExtraNews is an unique, fully responive news WordPress theme for all sorts of publishers. Great for review, news and blog sites, with integrated reviews, video, slideshows, and galleries in each post.
ExtraNews View DemoExtraNews Download & Info
Backstreet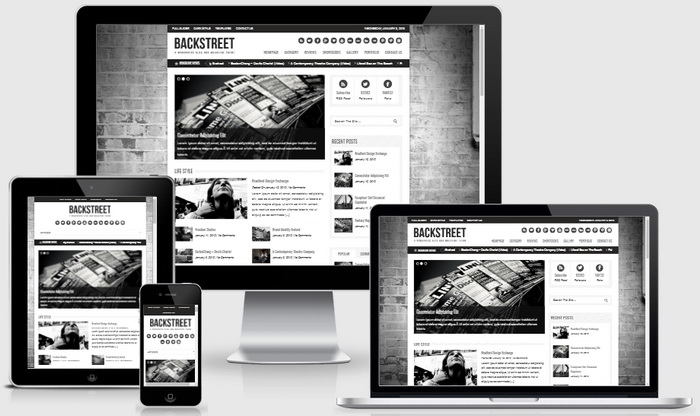 Backstreet is a modern wordPress magazine, portfolio and blog theme. With the 3 post formats (videos, audio & galleries) Backstreet can be used for almost any niche. Backstreet also built-in review system (with up to 5 rating criteria). Furthermore you can customize the look of the site easily via the custom theme options panel.
Backstreet View DemoBackstreet Download & Info
PRESSO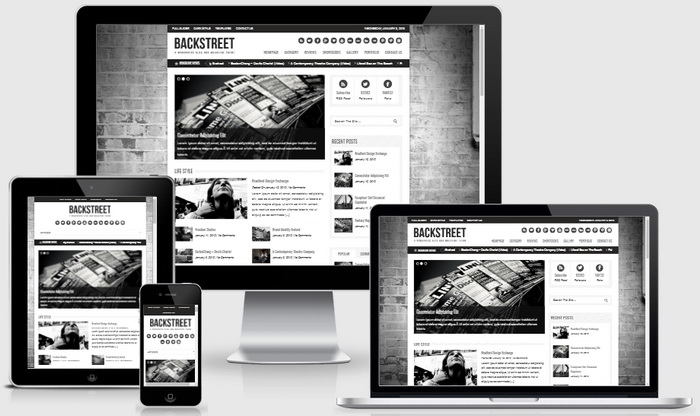 PRESSO is a clean and modern Magazine WordPress Theme built for blog, newspaper, editorial, magazine, viral or personal website. It has features such as Responsive Design and Mobile Friendly, Retina Ready, Ultra-sharp High Resolution Graphics, MEGA Main Menu, Off-Canvas Mobile Navigation, Sticky Main Menu Navigation, Sticky sidebar, Instant AJAX Search, WPML and RTL Support, Instagram Photo Stream on footer and more.
PRESSO View DemoPRESSO Download & Info
BUCKET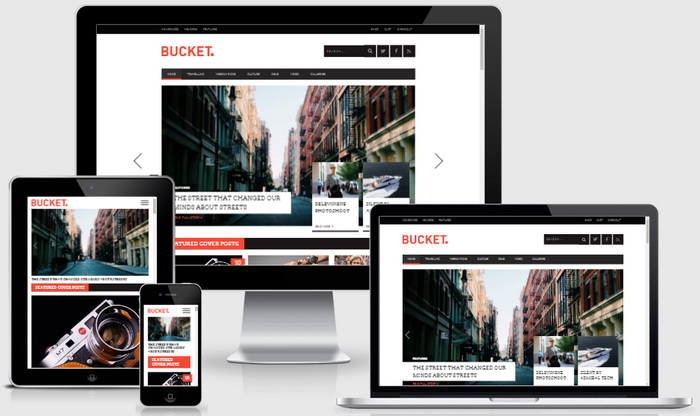 BUCKET is an indispensable Magazine Style WordPress Theme aimed at providing you with an easy-to-use tool to share your discoveries and showcase the latest findings. The powerful unique Admin Panel and a Custom Page Builder designed with ease of use in mind will enable you to setup your website in a matter of minutes.
BUCKET View DemoBUCKET Download & Info
NewsTube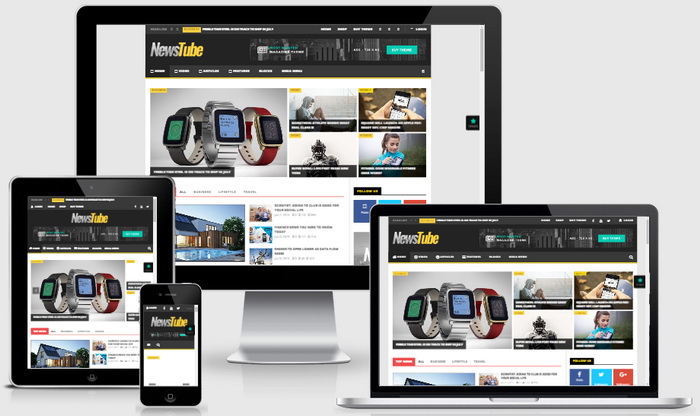 NewsTube is a clean and well organized theme for MAGAZINE, BLOG and VIDEO sites. It is fully responsive, retina ready and has many powerful features. The video magazine theme comes with flexible theme layouts and extensive Theme Options, which allows you to easily customize your website exactly the way you like.
NewsTube View DemoNewsTube Download & Info
Authentic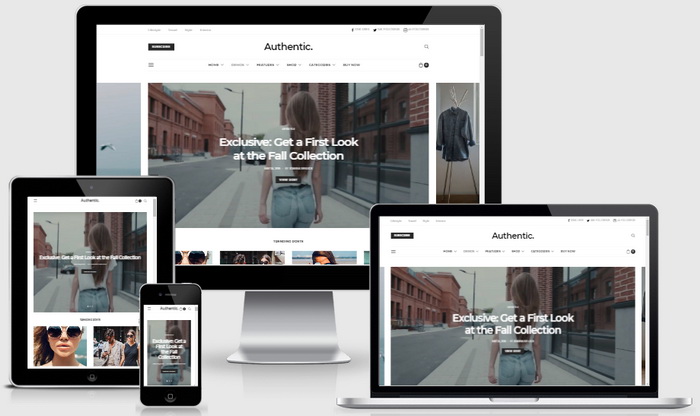 Authentic is a light & minimal WordPress theme perfect for lifestyle bloggers & magazines. It has so many amazing features that will make your blog or magazine stand out among others. Let your visitors enjoy the clutter free contemporary design of your new website powered by Authentic.
Authentic View DemoAuthentic Download & Info
Bangkok Press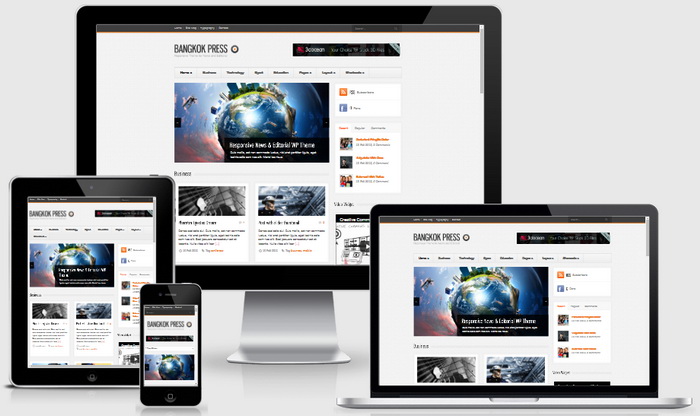 Bangkok Press is an awesome News and Editorial WordPress Theme. There're more than 10 of blog option for your alternative. Moreover, you can change almost every elements color easily via admin panel. Page items are managed very easily via our awesome tool, 'Page Builder'. Admin panel in this theme is a real feature rich.
Bangkok Press View DemoBangkok Press Download & Info
Jannah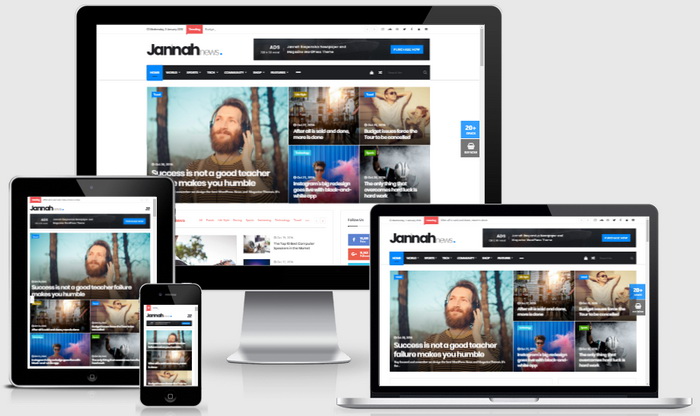 Jannah has Content Marketing covered with fresh responsive designs, amazing new features, complete 1-click website demos & lifetime free updates.
Jannah takes a fresh look at the world of desktop publishing in today's modern age of content marketing and flips it on its head with a stunning design, fresh layout options, modern sharing options and integration of most popular extensions for WordPress for maximum flexibility.
Jannah View DemoJannah Download & Info
BoomBox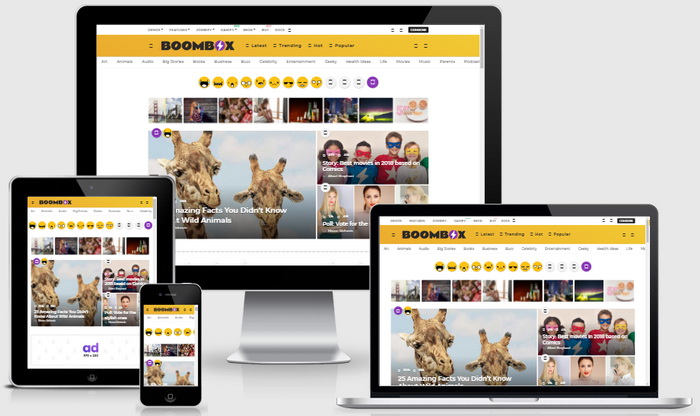 Boombox is all-purpose viral magazine theme with a top-notch design and extremely customisable layout, full of viral snacks and exclusive features, powered by the most powerful viral content builder. Populate news, listicles, polls or quizzes, spread them via social sharing, trending, reactions and up/down voting systems, drive bloggers community and monetise with any type of ads.
BoomBox View DemoBoomBox Download & Info
15Zine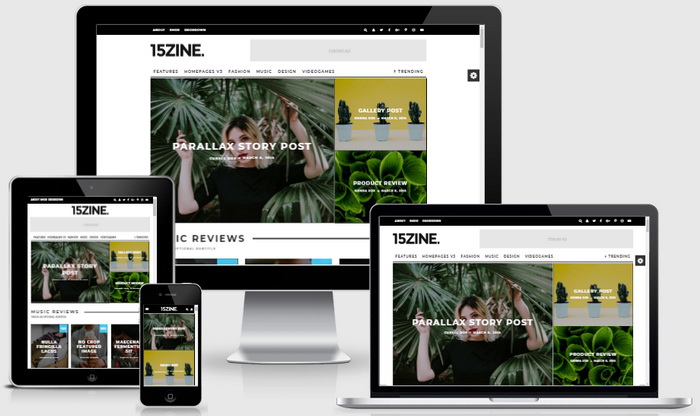 15Zine is a cutting edge WordPress magazine theme created for 2017 and beyond. 15Zine is a ridiculously versatile WordPress Newspaper theme out of the box with an integrated review system with unlimited criterias/pros/cons making it a powerful review theme – For the homepage, you can use 15zine's exclusive and powerful homepage drag and drop builder to create modern and layouts. Posts can become beautiful stories, by using 15Zine's powerful and featured image style system with multiple feature image styles, including a smooth parallax one. You can also use 15Zine as a powerful review theme for your site.
15Zine View Demo15Zine Download & Info
NovaBlog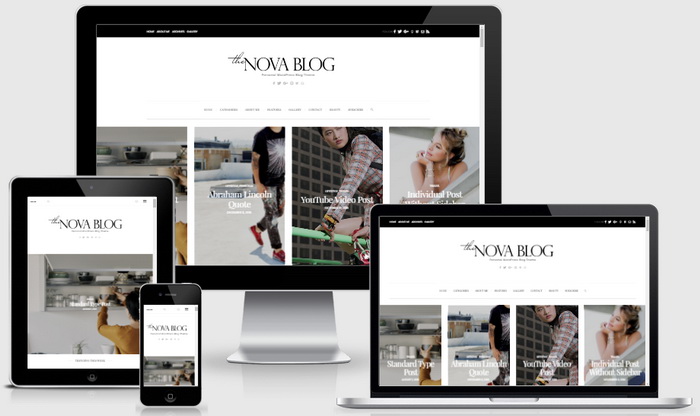 Unlimited home page variations, unlimited styles support, header styler, 5 built-in header layouts, 4 posts layouts, 9 custom page templates, built in categorized image gallery with 2, 3, 4 columns and integrated lightbox, 9 custom widgets, features 9 post formats: Standard, Aside, Gallery Slideshow, Gallery Grid, Link, Image, Quote, Audio, Video, powerful theme options panel, built in SUBSRIBE page and LOGIN page, full width INSTAGRAM, amazing Mega Menu, custom Cookie banner and more.
NovaBlog View DemoNovaBlog Download & Info
Newsflash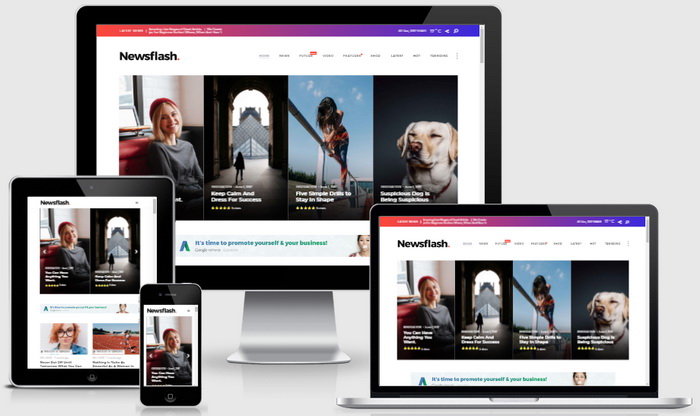 Newsplash is a remarkable modern theme created for all news agencies, magazines and publishers alike.packed with six beautiful & completely customizable homepage layouts which are sure to fityour need.
Newsflash View DemoNewsflash Download & Info
Gridlove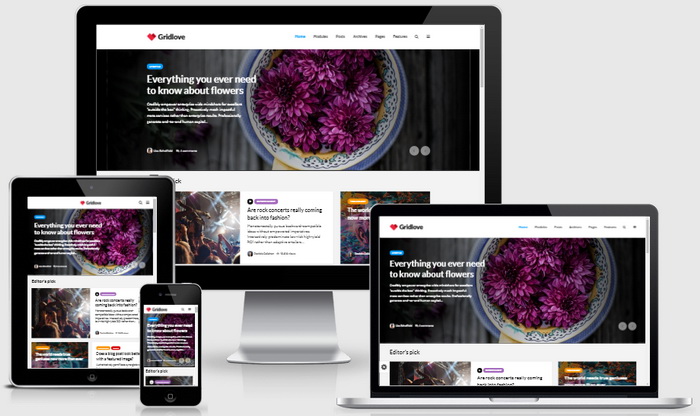 Gridlove is a creative grid style WordPress theme with a focus on news and magazine websites. With many predefined layouts and templates you'll have an extraordinary website up and running in no time – no coding required!
Gridlove View DemoGridlove Download & Info
Positive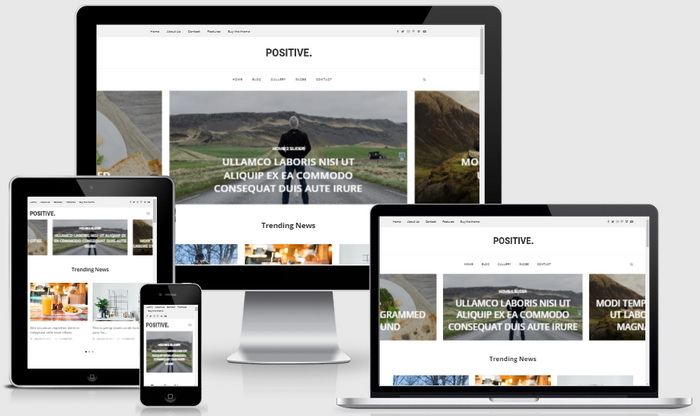 Positive is clean, beautiful and modern WordPress Theme crafted for Personal Blog, Magazine, Newspaper websites. It comes with 11 unique home page layouts and tons of features that will come handy while building your next blog or magazine or newspaper website.
Positive View DemoPositive Download & Info
Onfleek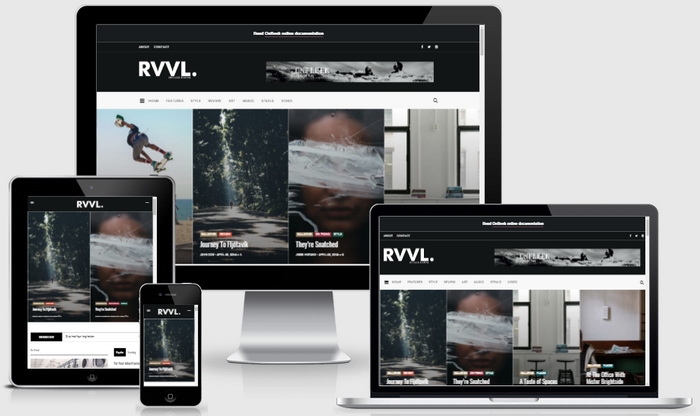 Onfleek comes to fulfil your need of a contemporary creative magazine theme. It brings out the flexible, dynamic, and creative culture that explores your interests without boundaries. Designed with clean code and powered with new technology such as AMP and Built in Social OAuth, Onfleek is light, fast, and easy-to-use that lets you to slay on mobile and desktop search rank.
Onfleek View DemoOnfleek Download & Info
Pluto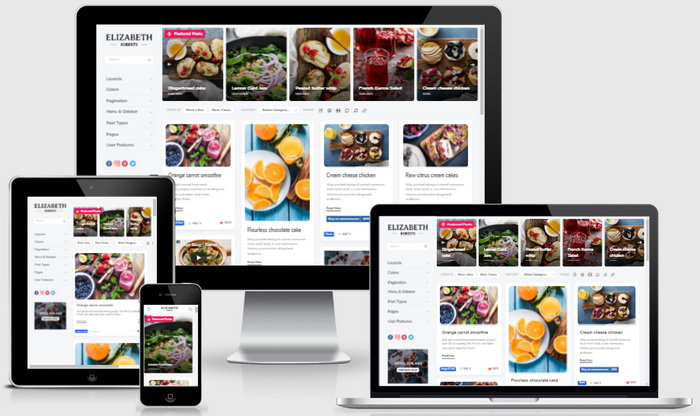 Nobody wants their hard work stolen. With a simple checkbox in admin you can enable a unique and smart Photo Protection from copying.You can even set a text you want to display if tries to save the image.With our powerful admin options panel you can customize colors, fonts, styles, backgrounds of your blog with a click of a button.
Pluto View DemoPluto Download & Info