WordPress itself is a very secure platform. But WordPress sites can be an easy target for attacks because of the themes and plugin vulnerabilities, weak passwords and obsolete software. On average, thousands of websites are hacked each day. So if you are running your website on WordPress, securing your website as much as possible is an essential task. Here I have listed most popular and very good free WordPress security plugins for your website. By using this plugins, it will help you to add an extra security to your site with a lot of good security practices.
Wordfence Security

Wordfence Security is a free enterprise class security and performance plugin that makes your site up to 50 times faster and more secure. Wordfence starts by checking if your site is already infected. It will do a deep server-side scan of your source code comparing it to the Official WordPress repository for core, themes and plugins.
iThemes Security

An easiest, most effective way to secure WordPress in seconds. iThemes Security (formerly Better WP Security) gives you over 30+ ways to secure and protect your WordPress site.
All In One WP Security & Firewall

All In One WP Security & Firewall is comprehensive, user-friendly, all in one WordPress security and firewall plugin for your site. It reduces security risk by checking for vulnerabilities, and by implementing and enforcing the latest recommended WordPress security practices and techniques.
BulletProof Security

BulletProof Security comes with features such as one-click setup wizard, .htaccess website security protection (firewalls), login security & monitoring, db backup features, db table prefix changer, security logging, http error logging, frontend|backend maintenance mode and more.
Sucuri Security

The Sucuri WordPress Security plugin is a security toolset for security integrity monitoring, malware detection and security hardening.
Acunetix WP Security

Acunetix WP Security plugin is a free and comprehensive security tool that helps you secure your WordPress installation and suggests corrective measures for: securing file permissions, security of the database, version hiding, WordPress admin protection and lots more.
BruteProtect

BruteProtect is a cloud-powered Brute Force attack prevention plugin and the best protection against botnet attacks.
AntiVirus

Useful plugin that will scan your theme templates for malicious injections. It has features like virus alert in the admin bar, cleaning up after plugin removal, daily scan with email notifications, database tables and theme templates checks, whitelist solution, manual check of template files with alerts on suspected cases and more.
Simple Security Firewall

Comprehensive and Easy-To-Use WordPress Security - Comes With Business Grade Support, with no "premium" restrictions.
Login LockDown

Login LockDown records the IP address and timestamp of every failed login attempt. If more than a certain number of attempts are detected within a short period of time from the same IP range, then the login function is disabled for all requests from that range. This helps to prevent brute force password discovery.
BBQ: Block Bad Queries

Block Bad Queries (BBQ) is a simple script that protects your website against malicious URL requests. BBQ checks all incoming traffic and quietly blocks bad requests containing nasty stuff like eval(, base64_, and excessively long request-strings. This is a simple yet solid solution that works great for sites where .htaccess is not available.
Premium WordPress Security Plugins
Above security plugins are free and very good. But if you need a premium WordPress security bundle with great support, check below security suits. They will provide great protection to your site.
Security Ninja Plugins Bundle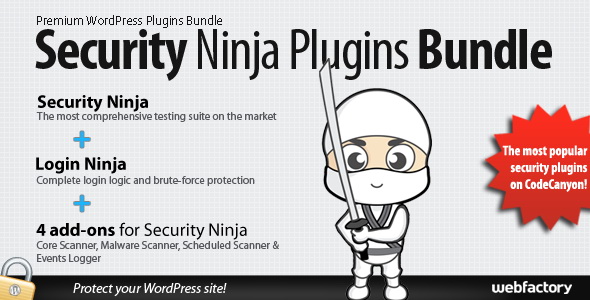 Security Ninja bundle includes these plugins: Security Ninja, Login Ninja, Core Scanner add-on for SN, Scheduled Scanner add-on for SN, Events Logger add-on for SN, Malware Scanner add-on for SN.
Swift Security Bundle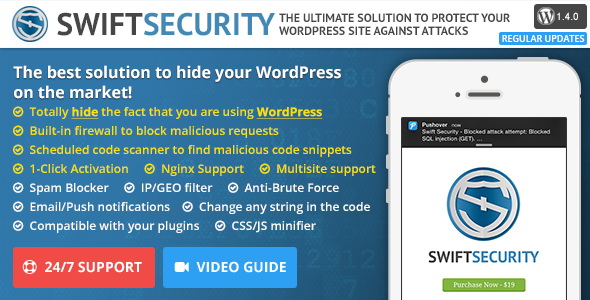 With the Swift Security plugin you can make your WordPress website more secure with a single click. A great advantage of the plugin is that you don't need any special technical knowledge. Swift Security bundle includes these plugins - Hide WordPress, Firewall, Code Scanner
Smart Security Tools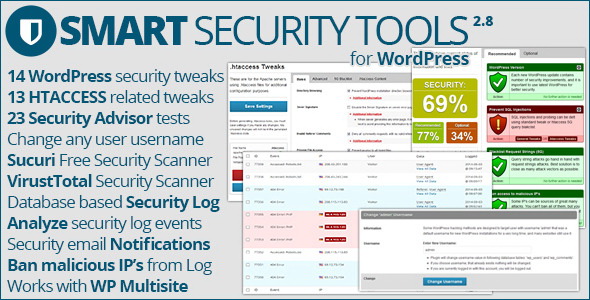 Smart Security Tools is a powerful plugin for improving security of your WordPress powered website. Plugin contains collection of tweaks and tools for extra security protection along with Security Advisor that can help you determine what needs to be done.