Food selling via online & ordering those is now part of day to day life.You can do online food businesses, provide food recipes and selling the food items. If you are a cooking specialist or interested person and you want to share your experiences with others,its the chance to start a nice web site.Otherwise, if you are in a food business, you may want to sell your food items online. So, happy to say the WordPress that has all kind of themes for you to use for any purposes.
There are hundred of WordPress themes for food, recipes, restaurants,.etc.But here in this article, I was listing of 25+ Best Food Recipe WordPress Themes for you.
So, try it & do it. I think, you are the only person, that know exactly about your capacity & self energy.If you have any potential for running a popular business, never omit it. In presently,there are many ways to start from today.I was extending my helping hands on you only.You are the person, who have decided.
#1: Food Recipes - WordPress Theme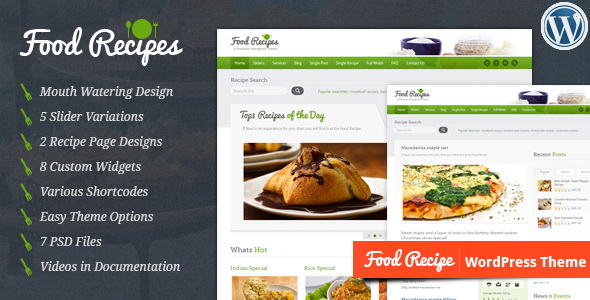 Food Recipes is a fully responsive, feature rich and beautifully designed WordPress theme for recipes related websites. This theme is perfect for professional Chefs and Cooking Experts. Food Recipe WordPress theme makes it very easy to share cooking knowledge with complete information and videos support.
View DemoDownload & Info
#2: CookingPress - Recipe & Food WordPress theme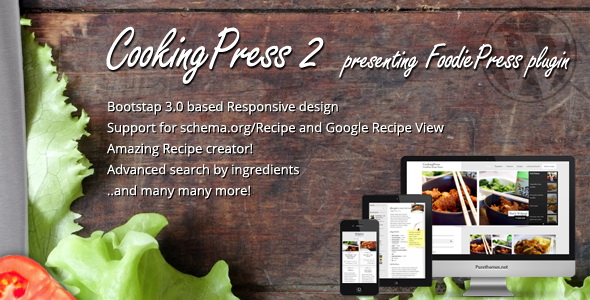 CookingPress is a WordPress theme for foodies. This recipe theme will let you share all your recipes and cooking tips with wide audience.
#3: Food & Cook - Multipurpose Food Recipe WordPress Theme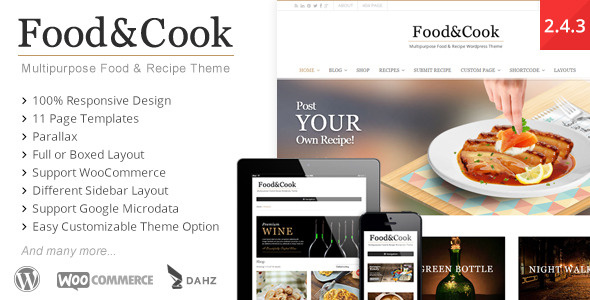 Food & Cook is your Multipurpose WordPress Theme, sharing recipes and cooking tips can't get any easier than this. With Beautiful and Clean design its a Perfect display for your food catalogue.
#4: Pluto -Personal WordPress Masonry Blog Theme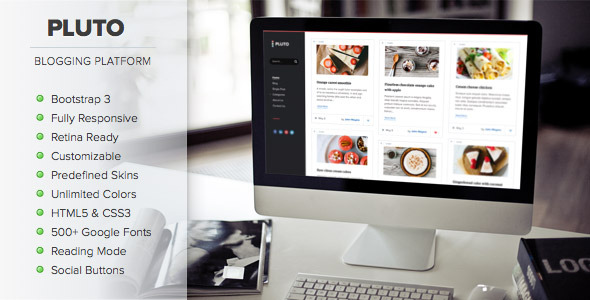 Theme Pluto is a perfect theme for casual bloggers. It can be used for a cooking website, family blog, technology blog, personal blog or any other kind of blog which is simple to setup and use.
#5: Cooker - Online Restaurant, Food Store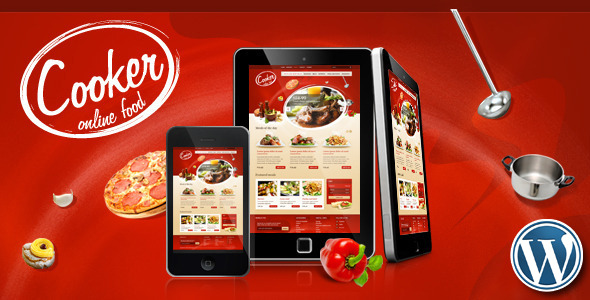 Cooker is great template excellent for restaurant, bar, pub or bistro.You can use it as a Blog, online store, to present your restaurant, pub or just to show your cooking skills to the world.
#6: Cooks - Restaurant WordPress Theme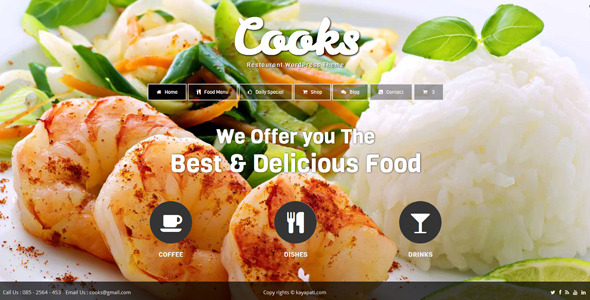 Cooks is a clean, flexible, feature rich, responsiveness Restaurant WordPress CMS Theme with Reservation form, CPT Food Menu, Tabular Food Menu and other plenty of widgets to display all Food & Restaurant related styles.
#7: The Kitchen Table -Responsive Recipes WordPress Theme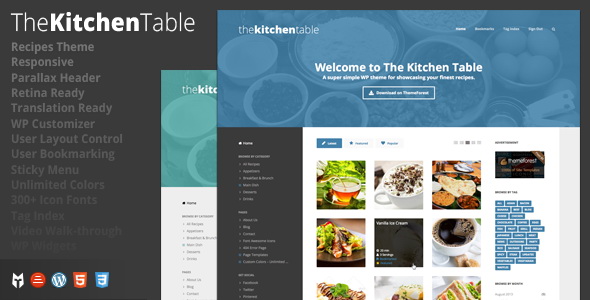 The Kitchen Table is a super simple recipes theme for WordPress. Using built-in features of WordPress, The Kitchen Table is super easy to manage and control using the theme customizer.
#8: Bella Motel - Restaurant & Bakery Responsive Theme

Bella is an Elegant, Responsive Template Design for Restaurant, Bakery and Food Business.
#9: WPCook - Recipes and Cooking Responsive Theme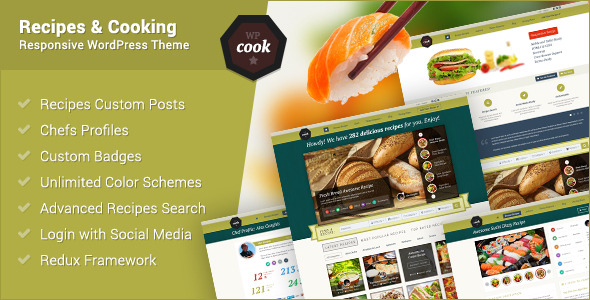 wpcook is probably the most advanced recipes and cooking responsive WordPress theme.
#10: Cooking -Blog Theme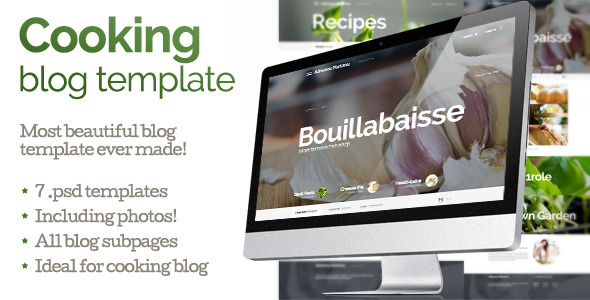 Cooking blog template is a blog theme for food lovers, which want to open own culinary blog. Big pictures, modern clean design, and love is in this Made with Passion for people with passion.
#11: Cooking Monster - Responsive Tumblr Theme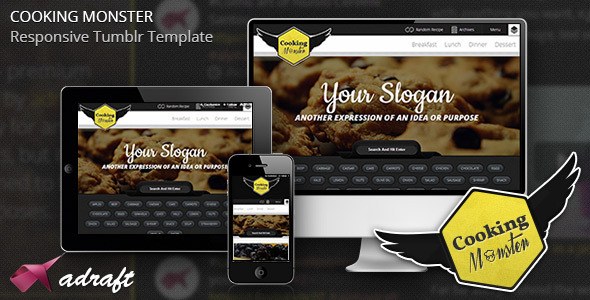 Cooking Monster Responsive Tumblr Theme was created with love. It was originally designed especially for any kind of cooking maniacs.
#12: Delicious - Recipe & Food Ghost Theme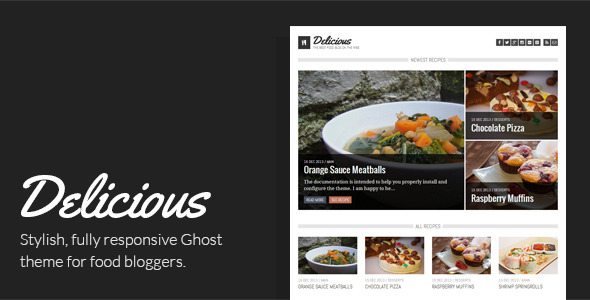 Delicious is a fully responsive Ghost theme for food bloggers. With your meals on focus, it is the perfect theme to show off your cooking skills and amazing food photography.
#13: iCook – Food Blog WordPress Theme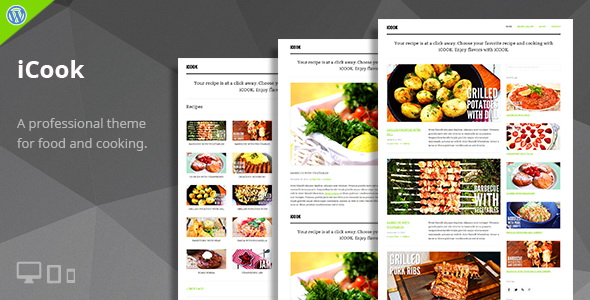 iCook is a clean, minimalist and powerful food blog driven WordPress Theme. It is a strong platform for a restaurant site or blog.
#14: Tasty - Modern Tutorial Ghost Theme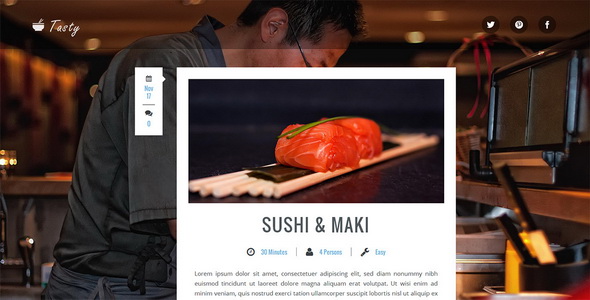 Tasty is a modern responsive Ghost Theme, ideal for any kind of tutorial based blog sites like cooking recipes.
#15: PSDCook - Recipes & Cooking PSD Design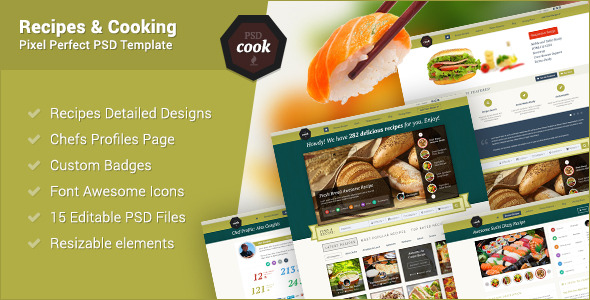 PSDCook is one of the most advanced and detailed recipes and cooking PSD template.
#16: Fine Food - Restaurant Responsive WordPress Theme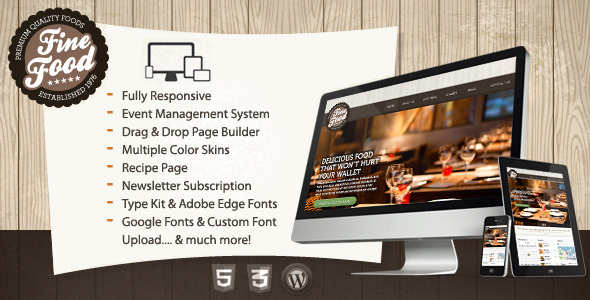 Fine Food is a Responsive WordPress theme suitable for any kind of restaurant, hotel, cafe, coffee shop, spa and similar websites that needs a feature rich and beautiful presence online.
#17: Ingredients - A Fresh Recipe WordPress Theme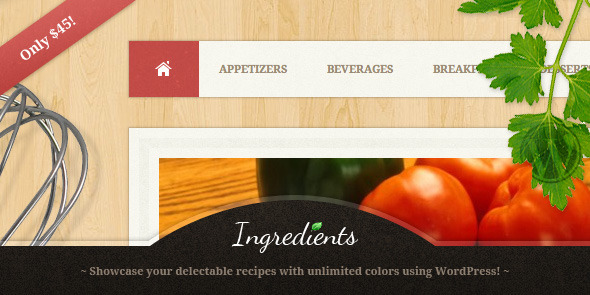 Ingredients is fresh looking WordPress theme made especially for people like you wanting to showcase your delicious recipes with friends and everyone on the web! Choose from an unlimited variation of colors to use for all the colored elements (such as links, buttons, etc.)
#18: Forkbite - Food Recipe and Restaurant theme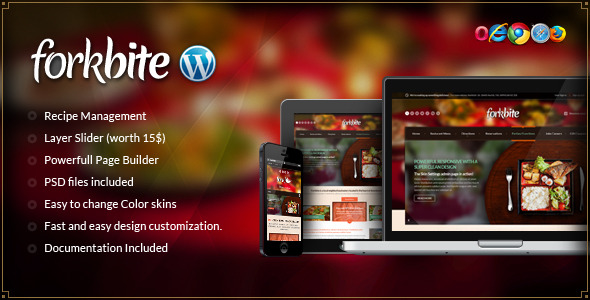 Forkbite is a WordPress theme specially designed for Food Recipe and Restaurant websites. This template is easy to modify and ready to be up and running out of the box.
#19: Foodie - A Whimsical Food Blogging Theme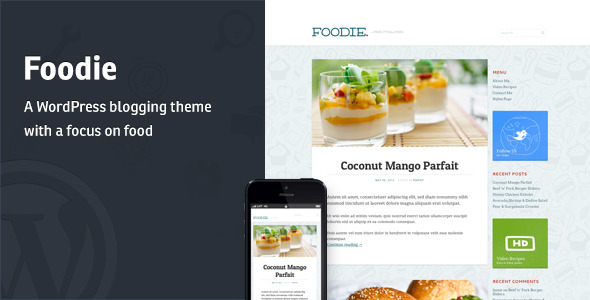 Foodie is a blogging theme with a focus on food. Whether you are a seasoned chef, or just getting comfortable in the kitchen, Foodie allows you to showcase and talk about your latest creations, or the art of food in general.
#20: Taste of Japan - Restaurant, Food WordPress Theme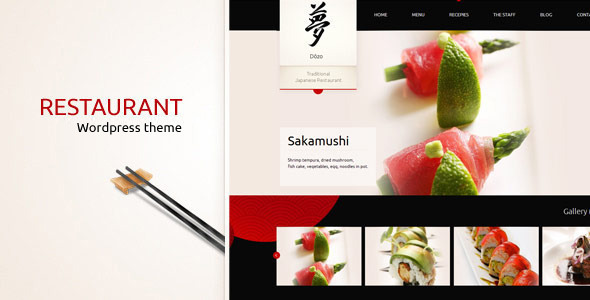 Taste of Japan classy and tasty WordPress Template perfect for presentation of your restaurant, pubs, bars, wineries and other companies offering foods and drinks. Each page has unique layout created to best display data in well organized and visually attractive way.
#21: Mazzareli - WordPress Theme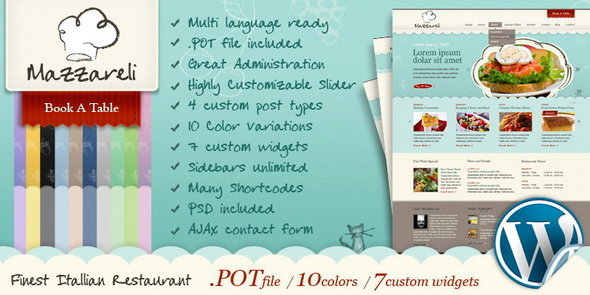 Mazzareli is a beautifully designed WordPress theme for your cafe or restaurant. It is well organized looking theme for your culinary business, foodies, recipes, etc.
#22: Pico - Food & Lifestyle Blog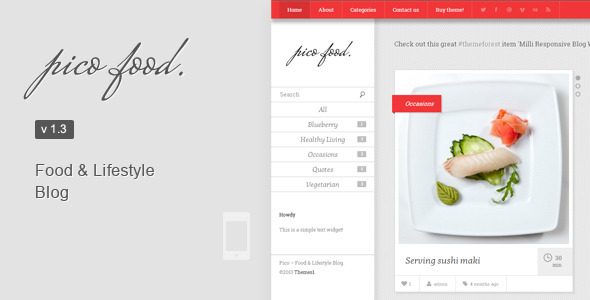 Pico is a clean and elegant WordPress Theme with a focus on your content and was designed with Food or Health or Lifestyle Blogs in mind, but can be used for anyone who wants to have a beautiful blog site.
#23: Delicioso - WordPress Recipe Theme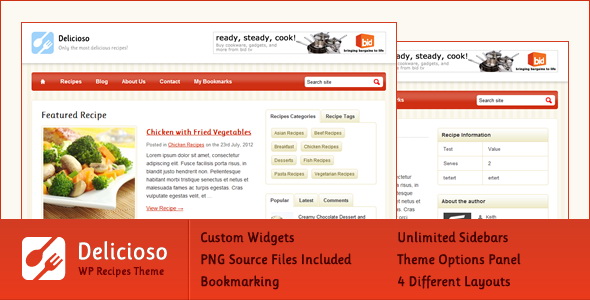 Delicioso is a beautiful recipe theme for WordPress. It offers the user an easy way to create a recipe site.
#24: Tasty Crunch - Food Recipe and Restaurant theme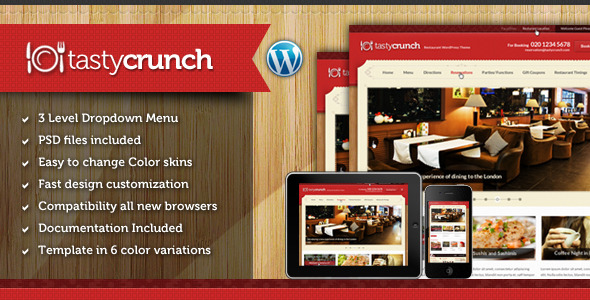 Tasty Crunch is a WordPress theme specially designed for Food Recipe and Restaurant websites. This template is easy to modify and ready to be up and running out of the box.
#25: Grab - Restaurant WordPress Theme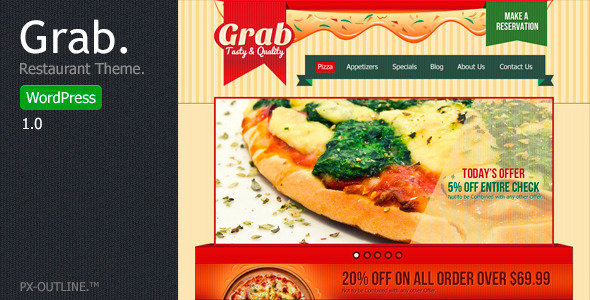 Grab is a WordPress theme aimed at restaurants and eating places.