Screen recording is very useful in different ways such as creating how-to tutorials/videos, taking screenshot of websites, sending to bug reports to someone, etc. This is a collection great screen capturing / recording software available today with lot of features. Most of these software are free and others have freemium and free trail versions. If you know about another good screen-capture utilities, please leave a comment below.
Screenpresso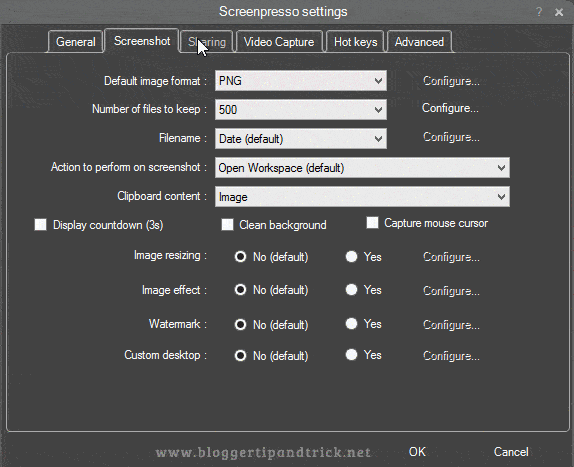 Screenpresso is screenshot and screencast tool that allows for full-screen, window or region-based captures on your desktop (screenshots and HD videos). It has a built-in screenshots editor (supports cropping and resizing, arrows, text labels, numbering, a blur tool, and border effects), user guide generator and sharing options.
Platforms: Windows
License: Freemium
http://www.screenpresso.com/
Greenshot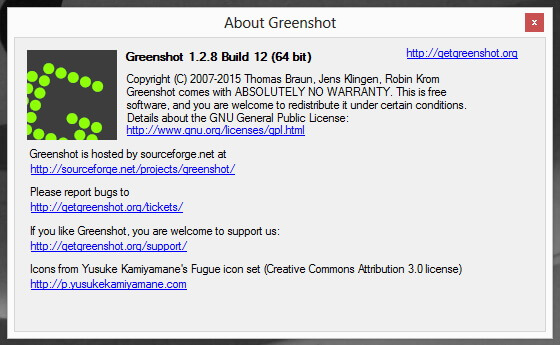 Greenshot is a light-weight screenshot software tool for Windows. With Greenshot you can Quickly create screenshots of a selected region / window or fullscreen, Easily annotate / highlight or obfuscate parts of the screenshot and export the screenshot in various ways: save to file, send to printer, copy to clipboard, attach to e-mail, send Office programs or upload to photo sites like Flickr or Picasa, and others.
Platforms: Windows
License: Open Source
http://getgreenshot.org/
Shutter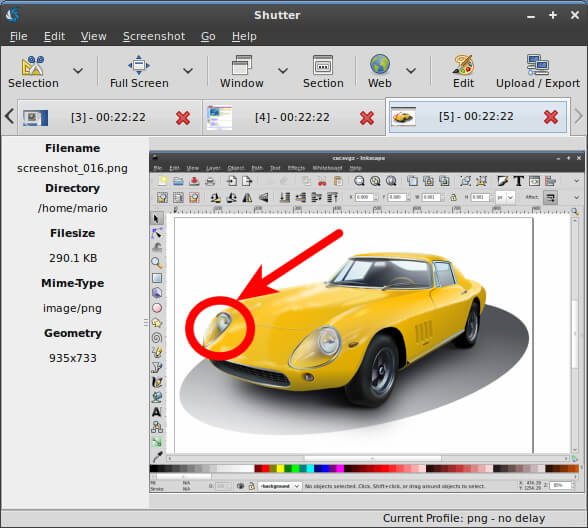 Shutter is a feature-rich screenshot program for Linux based operating systems such as Ubuntu. You can take a screenshot of a specific area, window, your whole screen, or even of a website – apply different effects to it, draw on it to highlight points, and then upload to an image hosting site, all within one window.
Platforms: Linux
License: Open Source
http://shutter-project.org/
FastStone Capture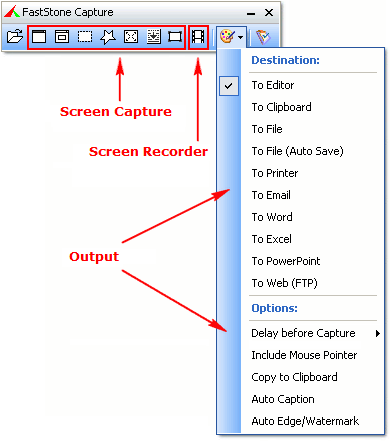 FastStone Capture is a powerful, lightweight, yet full-featured screen capture tool and screen video recorder. It allows you to easily capture and annotate anything on the screen including windows, objects, menus, full screen, rectangular / freehand / fixed regions as well as scrolling windows / web pages. It also allows you to record all screen activities including onscreen changes, speech from microphone, mouse movements and clicks into highly compressed video files.
Platforms: Windows
License: Commercial (30 days trial avaialble)
http://www.faststone.org/FSCaptureDetail.htm
PicPick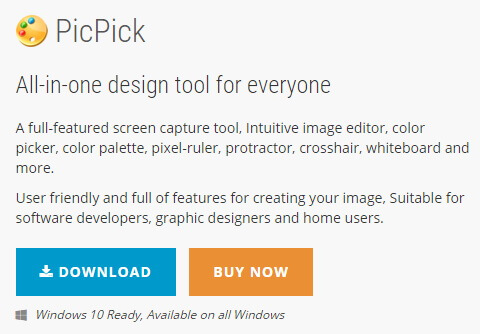 With PicPick, you can take screenshots of an entire screen, an active window, the scrolling windows and any specific region of your desktop, etc.
Platforms: Windows
License: Free Personal
http://ngwin.com/picpick
Snagit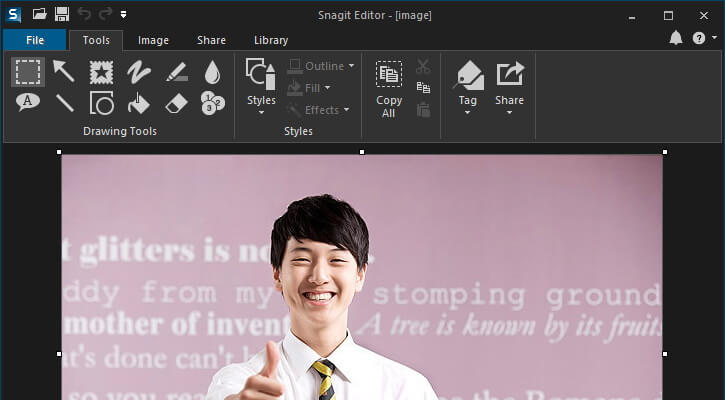 Snagit is a ultimate screen capture tool. Sometimes words aren't enough. Use images and videos to show people exactly what you're seeing. Snagit gives you an easy way to quickly provide clear feedback, create documentation, and change the way you work with others.
Platforms: Windows, Mac OS X
License: Commercial (15 days trial avaialble)
https://www.techsmith.com/snagit.html
Skitch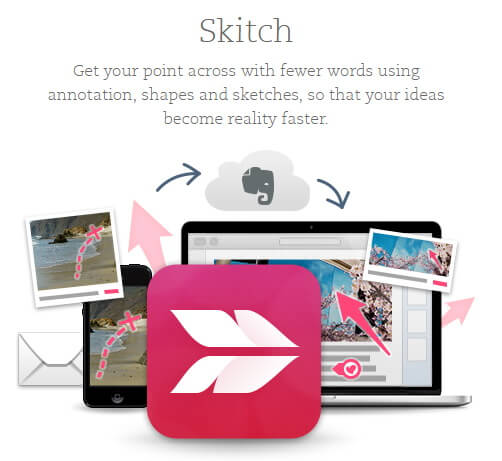 Get your point across with fewer words using annotation, shapes and sketches, so that your ideas become reality faster. Skitch is a great screenshot editing and sharing utility that permits the user to add shapes and text to an image, and then share it online.
Platforms: Windows, Mac OS X, Android & iPhone
License: Freemium
https://evernote.com/skitch/
Lightshot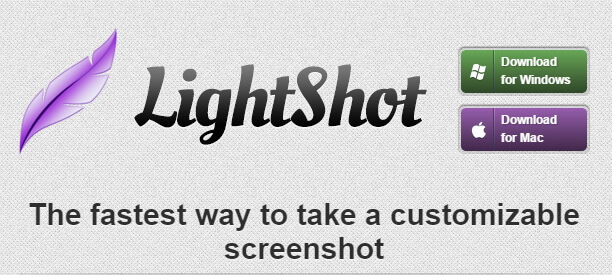 Lightshot has features such as fast screenshot of selected area, easy-to-use application, share screenshots via Internet, powerful editors and similar image search.
Platforms: Windows, Mac OS X
License: Free
https://app.prntscr.com/en/index.html
TinyTake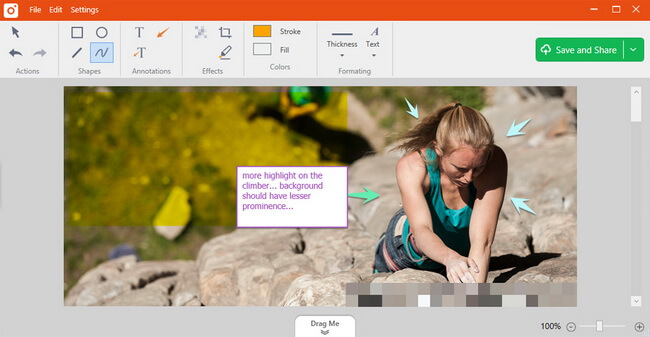 TinyTake is a free screen capture & video recording software for Microsoft Windows & Mac. With TinyTake, you can capture images and videos of your computer screen, add comments and share them with others in minutes.
Platforms: Windows
License: Freemium
http://tinytake.com/
JShot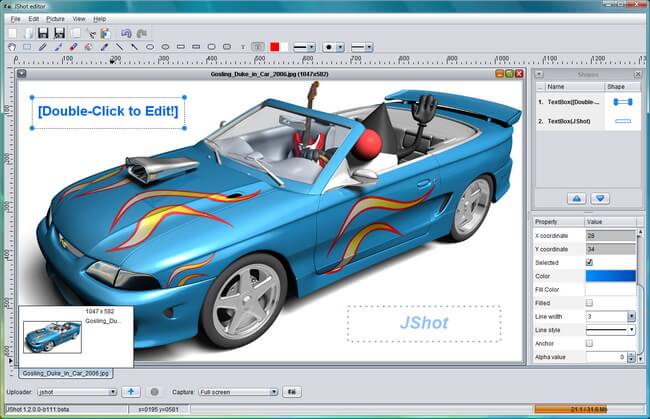 JShot is a free and multiplatform screen capture and uploader application which allows you to capture and annotate a part of your screen and share it via the Internet in one step.
Platforms: Windows, Mac OS X, Linux
License: Free Personal
http://jshot.info/
Grabilla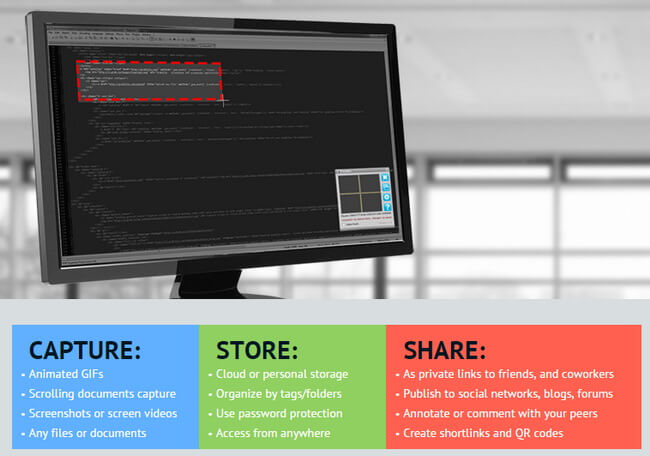 Grabilla is simple and fast screenshot capture application. You can capture screen or record desktop actions video with voice comments and instantly upload it to their image hosting server and share your image.
Platforms: Windows, Mac OS X
License: Free Personal
http://grabilla.com/
LICEcap

LICEcap can capture an area of your desktop and save it directly to .GIF or .LCF. LICEcap is an intuitive but flexible application (for Windows and now OSX), that is designed to be lightweight and function with high performance.
Platforms: Windows, Mac OS X
License: Open Source
http://www.cockos.com/licecap/
GifCam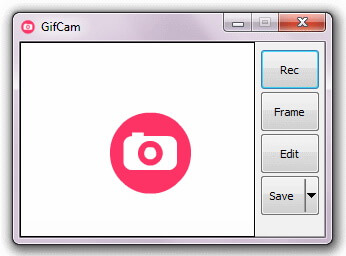 GifCam is easy and fun animated gif making images. GifCam has a nice idea where the app works like a camera that stays on top of all windows so you can move it and resize it to record your desired area.
Platforms: Windows
License: Free
http://blog.bahraniapps.com/gifcam/
Snipping Tool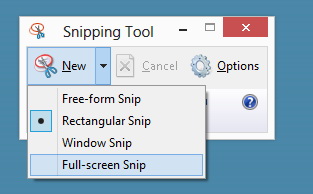 Windows operation systems has default screenshot utility called "Snipping Tool". You can capture part or all of your PC screen, add notes, save the snip, or email it right from the Snipping Tool window.
Platforms: Windows
License: Free
http://windows.microsoft.com/en-us/windows/use-snipping-tool-capture-screen-shots